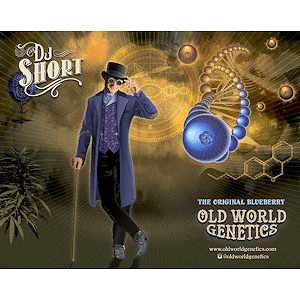 A Breeder since the early 70's, DJ Short has produced some of the most unique strains found anywhere on the planet. His Blueberry strain described by some as 'the most wonderful form of marijuana to date', placed first in the Indica category at the 2000 Cannabis Cup.  
As one of the most important Breeders of our time, DJ Short raises the bar for all cannabis breeders with his original mix of new and Old World Genetics.
CURRENT BLUE STAR / OLD WORLD GENETICS PROMO:
FOR EVERY $60 SPENT ON BLUE STAR SEED CO AND/OR DJ SHORT OLD WORLD GENETICS GEAR IN THE MONTH OF MARCH YOU WILL RECIEVE ONE ENTRY INTO THE DRAWING FOR ONE OF THE FOLLOWING FEMINIZED 3 PACKS FROM BLUE STAR SEED CO:
STAR DREAM (BLUE DREAM x BLUE STAR) 56-63 DAYS   |   FAMILY BLUES V3 (DJ SHORT F4 BLUEBERRY x BLUE STAR) 56-66 DAYS   |   MAYBERRY (BLUE STAR X BLUE STAR) 56-63 DAYS
3 WINNERS WILL BE DRAWN ON OR ABOUT 4/5 AND WILL BE NOTIFIED BY EMAIL. 1ST WINNER DRAWN WILL GET 1ST CHOICE, SECOND WILL GET CHOICE FROM REMAINING PACKS AND THE 3RD WINNER DRAWN WILL RECIEVE THE REMAINING PACK.